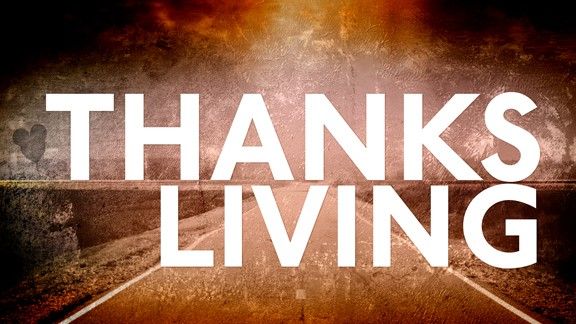 (source)
This is the third (and final) post in this year's "Thanksliving" series - a collection of stories to exhort and inspire you to be, not just touched by gratitude, but moved.   You can find the first two posts here:
ThanksLiving: Be Moved ThanksLiving: Kelly
Today I'm sharing with you a holiday tradition from my friend Jamie.  Remember Jamie, the cool mom who lets her boys keep baby snakes in a jar?  And describes them as sperm-like? (The snakes, not the boys.)  She is also my all-time favorite Facebook-status-poster and has excellent taste in music.
Here, in Jamie's own words, is how she, her husband, and her two rambunctious boys celebrate Thanksgiving.
On our kitchen door is a brown craft paper tree that stays up year-round.  On the kitchen table is a pile of leaf cut-outs, and during the month of November, we write on the leaves things for which we are especially grateful (among them: warmth, family nearby, books, neighbors, appliances that work, living near the train tracks - everything that has shown the Lord's care that year), then we tape them to the tree - our Thanksgiving tree.   This, I'm learning, is a common tradition among Christian families.
In years past, the Thanksgiving Tree leaves came down and were regretfully discarded.  But Jesus calls us not to wrap our arms tight around our blessings, but to pass them on - to see real need and meet it with what we've been given.  And because we desperately want our children to learn this, our family began to do something different: now the leaves on our Thanksgiving Tree become gifts under our Christmas tree.
For the entire month of December, we take each leaf and look for someone else who needs that same touch - then we make a way to give it.
For example, to pass on the blessing of "warmth," we have put together care packages and delivered them to homeless.  For "family nearby" we've written letters to soldiers overseas.  We've helped stock food pantries because we ourselves have never been hungry, and helped with loved ones' bills to say thank you to the Provider of all our needs.  We've shared the beauty in nature by creating paper flower bouquets for a loved one who isn't able to get out as she used to.  Our hands and our time, along with our washing machine, lawnmower, and other appliances, have served friends and neighbors, and our kitchen has fed busy, struggling families.
Some of our leaves require a little creativity ("living near the train tracks" has a regular spot on the Thanksgiving tree), but we trust the Lord to be faithful to provide us with ways to share with others the abundant life he has shared with us.  Whatever the cost in time and resources, it is well worth the effort to teach our children to let God's love flow through them - to instill in them a spirit of generosity that comes from a heart of genuine, humble gratitude.
After a couple years of passing on our blessings, we've found that they can't be easily done in one month between Thanksgiving and Christmas.  But rightly so!  We could never have a time of giving that is sufficient; it is meant to take us our whole lives!  We have to spread it out over an entire year, but that gives us more time and resources and ideas to use, and helps us to make this not just a special way of celebrating, but a way of living.
On Christmas morning, we open no gifts, and give none to our children, but we focus instead on the One Given, and on how to give Him out.  We open up a catalog from World Vision or Samaritan's Purse and each choose one gift to send to someone our hands cannot reach, and we will "wrap" this meager offering of our saved-up "Christmas money" to help meet a need of the hungry, naked, imprisoned and alone - a face we will likely never see, but which we know looks just like Jesus' face.
Even as I write this, I am humbled by how little we have truly sacrificed, and by how greatly the Lord multiplies and returns.  Our home has consistently been covered in peace and joy during this season, and our needs have never gone unmet. We have not worried over whether our children would rebel against giving rather than receiving, but have rested in the Lord's faithful promise that it is more blessed to give than to receive.  Our children have been the first to look for ways to stretch their funds to give; they have been teaching us what trust and generosity look like.
Hopefully, next year, the things that are on our Thanksgiving tree will show up on the trees of many others.  We have so much to be thankful for, and, like the story we've been given to tell, we can't keep it to ourselves!  Join us!  It's never too late to start.
There is absolutely no way I could say it better than that.  Take each thing you're thankful for, and pass it on, literally - all year long.  This is ThanksLiving.