***This contest is closed - congratulations to Claire on winning the survival kit!  Claire, check your inbox for a message from me.  Thanks to everyone for reading and sharing.  Have a great weekend!  Love,  Kate***
Survivor Series is going out with a bang.  This week I put together a survival kit filled with some of my very favorite things - the tiny anchors that bring joy to the details of my day - no matter how CRAY everything is around me.
I am giving away $150 in coffee, music, books, and little indulgences.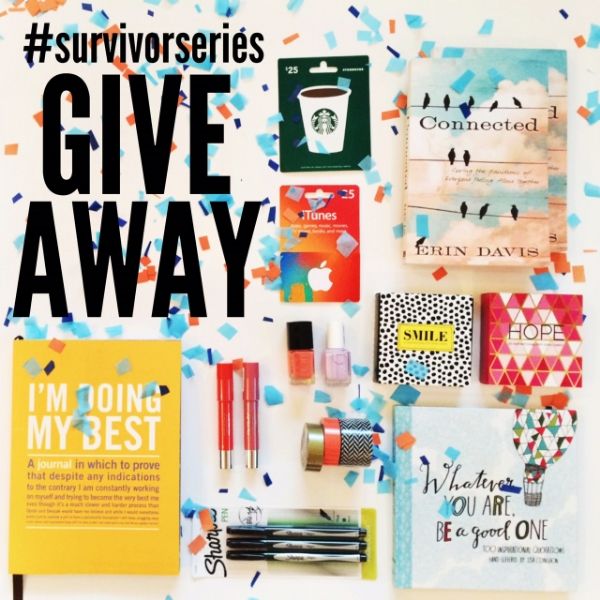 Here's the breakdown of my survival essentials:
-A $25 Starbucks card, because coffee. -A $25 iTunes card, because music. -2 copies of Erin Davis's "Connected," the subtitle of which is "Curing the pandemic of everyone feeling alone together." Because RIGHT?  Community.  We carry each other. -2 of my favorite polish colors this year, because nothing says "I AM PUT TOGETHER" quite like freshly painted nails (except for maybe the days when your underwear matches your outfit, and I'm not going there). -2 boxes of pop-up cards featuring inspirational quotes.  Give them away or tape 'em to your walls, whatever.  Smile.  Hope. -A Knock Knock "I'm Doing My Best" journal, because we are.  Plus, lists! -My favorite ever, ever lip balm (Revlon Colorburst) in 2 shades. -3 rolls of washi tape, which is the answer to all your problems. -A pack of Sharpie pens, which are the only writing instruments worth their salt.  They will make your handwriting pretty, which is important when you are making survivor lists in you new journal with your freshly painted nails.  It's an experience, people. -A copy of Lisa Congdon's "Whatever You Are Be A Good One."  Because Lisa is one of my favorite illustrators, and the quotes that she chooses to illustrate are perfect in every way.  I keep my copy propped on a little easel on my book shelf, and display a new page every few days.
It's a good one, friends.
Here is how to enter:
Share your favorite Survivor Series post (on Facebook, Instagram, Twitter, or Pinterest) using the hashtag #survivorseries and leave a comment here saying that you did so.  For an additional entry, share this giveaway and leave an additional comment.
I will contact the winner via the email address you provide with your comment.  You have one week to enter!
You can browse all of the #survivorseries posts here.
Or for quick reference, here's a list: Survivor Playlist, Send Your Roots Down (Surviving "The News"), The News (She Will Never See Like We Can See), We Carry Each Other, Surviving a Break Up, First Lesson, Hope (On Grown-Up Optimism), Surviving a Move, I Have a Fever, and the only Prescription is More Laughter, Surviving Jealousy, You Can Do Hard Things, When Motherhood Hurts, Surviving Parenthood, Gotta Go Through It, Passion is Overrated (On Surviving v. Thriving), To The Survivors, I See You.
Happy surviving and happy sharing! Kate
Reason # 8396 you should read my book:  "A person who won't read has no advantage over a person who can't read."  Mark Twain said that, and he was smart.  So read my book.  You can get it on Amazon, from Barnes & Noble, and in bookstores August 1.