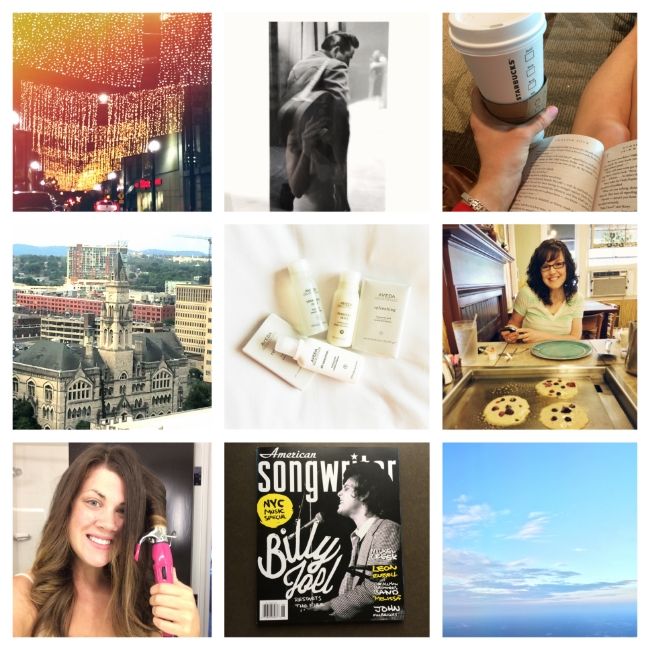 I went to Nashville this week and this is what happened:
1.  I ate a lot of things.  Maybe all the things.  I ate barbecue.  I ate pancakes.  I ate burgers.  I ate ALL THE SWEET POTATO FRIES.  Things my editors know about:
Books
Places to eat in Nashville.
2. I slept in a hotel.  On sheets I did not have to wash.  I spent 10 whole hours in a silent room, with no one touching me.  It was the new heavens and the new earth.
3. I did a little interview that will become book trailers for Enough and 10 Things for Teen Girls.   When I told my daughter that this was what I was traveling for, her exact words were, "If they put it on Youtube, I'll be so impressed with you.  Because if they put it on Youtube, that means they want to share it with a lot of people."  She thinks very highly of Youtube, bless it.  Nobody tell her.
4. I SAW KELLY CLARKSON AT AN ICE CREAM SHOP.  THE REAL KELLY CLARKSON.  SHE IS VERY PREGNANT AND HAS A TATTOO ON THE BACK OF HER NECK AND ON HER SHOULDER AND IS ADORABLE AND I WAS STANDING EXACTLY THREE FEET AWAY FROM HER GETTING ICE CREAM.  I was really chill and cool.  Then she left and I texted everyone I knew.
5.  I missed Kristen Bell and the CMA fest by a day.  But whatever because I saw Kelly Clarkson.  Nashville experience, complete.
6. I sat in an airport terminal, sipping Starbucks coffee, and unashamedly reading Harry Potter (because Harry Potter is like comfort food.  He is sick-in-bed reading.  He is beach-reading.  He is what I read to congratulate or console myself).  So I sat there, reading HP and sipping coffee and no one was touching me, or talking to me, or telling me about their bodily functions, or asking me to open things, and I thought, "Why do people hate waiting in airports?" 
And thus was born my new business endeavor.  If you are a business traveler who is SO OVER being a business traveler, 3 days before your next trip I will rent you my three children.  Madeline is drama and words.  Sam is two...and potty-training.  Henry requires constant, vigilant supervision.  They cannot eat, sleep, pee, or experience happiness by themselves.  After caring for them for 72 hours, you simply drop them by my home on your way to the airport.  I guarantee the most sacred, holy, Zen airport experience of your entire life.  I guarantee that no airport drink will ever have tasted so indulgent, no seat will ever have felt more luxurious, and that no gate attendant's voice will never have sounded so PLEASANT, and GENTLE, and MATURE.  I personally guarantee 100% satisfaction or your money back.  Creeps need not apply.
7.  I am back with my babies now, and I am so, so happy.  I squished all their squishy arms, I kissed all the places on all their faces, and I plan to spend the rest of the day making sure they don't drown each other in the baby pool outside.
Selah.