**Update: The winner of the custom dress is Melinda G. and the winners of the Sunhill Market Albums are Ruthie Clanton, Lesley Miller, and Terri!  Congratulations, ladies!  I'll be contacting you via the email address you provided, and you'll have new clothing and music headed to your mailbox soon.  I hope your families enjoy them!  Hug all the babies for me - every single one.  -Kate**  
Welcome to Kids Day Giveaway!
Today I'm giving away 4 pieces to 4 different winners!
1. Custom Dress (Newborn - 4T+)
Kerry of LBH Creations is donating a custom dress of the winner's choice!  Here is a sample of some of her work.
(Those eyelets in the first image slay me.  And that shabby-chic pink creation.)
You can visit the rest of her shop here.  (She's all about some unique, vintage-y fabric and her attention to detail is the best.)  If you win, you get to select the dress, fabric, color, size, etc. etc. etc. of your choice, and Kerry will create something beautiful just for you!
2.  Sunhill Market Album
I've
written before
about how 90% of children's music out there is horrendous.  I mean, it will make your ears bleed.  If you have/work with kids you know what I mean.  The washed out British opera soprano singing Twinkle Little Star way up at the top of her register, the choir of 25 seven-year-olds shouting Baa Baa Black Sheep, and the 12-year-olds dancing and singing bad Ricky Martin covers.  It's maddening.
Sunhill Market, the newest album from Steven Courtney, is a breath of fresh air in the children's music department.  It's family  music - stroke of genius.  Today I get to give away THREE copies of this sanity-saving music.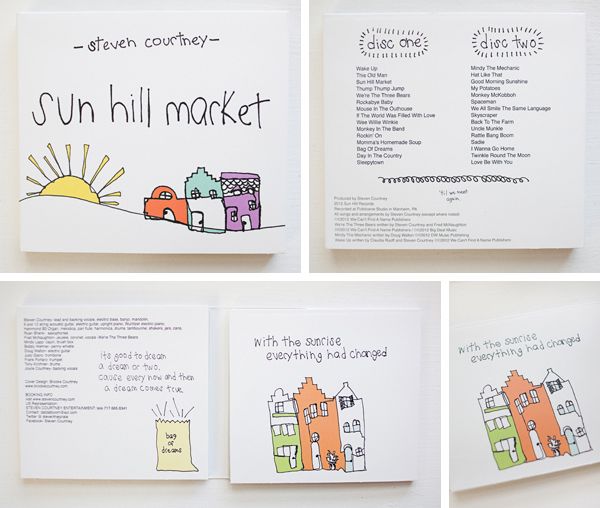 (Madeline's favorite is "My Potatoes," and I like "Uncle Munkle," "Sadie," and "Rattle Bang Boom.")
You can visit Steven's website
here 
(Check out
this post
if you think you can handle the adorableness. And if you're tired of old Wiggles videos at school/library/festival/church assemblies, you should check out his
booking page.
)
Here's how to enter:
1. Just comment on this post!  This serves as your entry to win any of the 4 prizes.  (There will be four winners.)  See?  No flaming hoops to jump through.
2. If you choose, you can submit one additional entry per item.
*To submit an extra entry for the LBH custom dress, pin your favorite item from Kerry's shop (here) to Pinterest and leave a separate comment saying that you did so.
*To submit an extra entry for the Sunhill Market album(s), share your favorite Steven Courtney video on Facebook (you can find them here and on Youtube) and leave a separate comment saying that you did so.
If you choose to submit extra entries for both items, you will have left a total of 3 comments on the post (which is the maximum).
Cool?  Yes, cool.
Good luck!  I will select the winners randomly at midnight tonight and announce the winners tomorrow morning!  When the comments box prompts you to leave your email address, make sure you enter one that you check regularly so that I can reach you if you win!
Be nice and spread the word, and come back tomorrow for the Design Day giveaway to win branding/graphic design services from Southtown Creative, a gift certificate for paper goods from Puddleduck Paper Co., and a gift certificate to the shop of home and graphic designer Shelby of the Honeysuckle blog!
Have browsing the sites today, and good luck! Kate
(I'm also guest posting over here today, you should come check it out!  I'm sharing a short little story and my favorite 4th of July video of all time:  my daughter Madeline, who was born blind, telling us in her own words what fireworks "look like" to her.  Some pretty heart-warming stuff if I do say so myself.)